KORT GESKIEDENIS
During his speech at the official inauguration of Vista University on 20 October 1983 the Honourable Mr D W Steyn, Minister of Education and Training gave a brief resumť of the background and inception of the University, saying that five years ago Cabinet appointed a committee under the chairmanship of Prof G van N Viljoen, then Rector of the Rand Afrikaans University, to investigate post-secondary education for Blacks in White areas with particular reference to university level education and the training of secondary school teachers.
The Committee completed and handed its report to the Minister of Education and Training in June 1980. Cabinet then agreed in principle to establish a University which could be functional in those areas recommended by Council and sanctioned by the Minister.
Legislation was prepared by the Department of Education and Training and during October 1981 this was approved by Parliament. The Vista University Act (no 106 of 1981) came into operation on 1 January 1982. On 6 January 1982 the Council of Vista University was constituted and the first council meeting was held in Pretoria. At this meeting Prof J P de Lange was chosen as chairman, and Prof C F Crouse was appointed Rector of the University. In January 1983 the first registrations were made by students engaged in full-time degree studies, and Vista became a reality.
Mr Steyn went on to praise the investigating committee for their vision in their timely consideration of the rapid growth rate of Black secondary school pupils in South Africa, and the provision of both university facilities and teachers for them. He also paid tribute to the personnel of the Department of Education and Training who prepared the legislation, and the Vice-Chancellor of Vista. Prof Crouse has, within a period of eleven months, opened the University's doors to students on five decentralized campuses, thus achieving a transformation from drawing board stage to a fully fledged university with 800 full-time and 2 000 part-time students, within 5 years.
The Minister said that Vista University could be justly proud to take its place as the eighteenth university in South Africa, and that he considered that Vista had a primary responsibility for discovering and disseminating the knowledge necessary for the advancement of its students and for all human endeavour.
The security of Vista's future lies in the University's indispensable service and achievement, not in emotion or tradition. The University must radiate belief in a better tomorrow for its students and the communities in which they live; all must see, believe and accept that their children will have a better tomorrow. This is the only recipe for success and progress.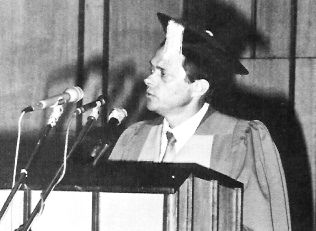 Prof C F Crouse addressed the meeting on the challenges facing Vista University

Mr Steyn concluded by saying that on Vista's gates, and on the hearts of its students and their parents should be inscribed: Vista is the faith of yesterday, through the reality of today into the vision of tomorrow.
Problems, we all agree, are there to be solved. However, due to the nature of many of these problems, such as the educational backlog and the scale of these problems, they simply cannot be solved overnight. Indeed the solving of each problem is in itself a long and sometimes painstaking process. Furthermore all these problems are inter-related and they cannot be dealt with in isolation.
To judge the progress in terms of the solving of these problems one should look at education, the key to the development of people to full potential. What has been achieved in this respect?
Bearing in mind the magnitude of the problem, the limited resources in terms of money and high-level manpower, and of course the ever present fallibility of man, tremendous progress has been made. Certainly nothing is perfect. Mistakes have been made, and as pointed out by the De Lange Commission there are shortcomings at every level of education. However, if a comparison is made, item by item, of the 1962 situation with that in 1982, then according to all norms the achievements are noteworthy. I would like to pay tribute to those men and women, Black and White, teachers, inspectors, planners and top administrators, for their life-long devotion, often under difficult circumstances, to this enormous task.
The typical programmes not offered by Vista are special first degree programmes such as agriculture, architecture, medicine, etc and for the foreseeable future programmes towards honours degrees.
Vista University is part of the family of South African universities and in terms of structure and standard of qualifications it will endeavour to keep in step with these universities. This can be achieved by tailoring courses and curricula along the same lines as at these universities, by raising the entrance qualifications, and by the external moderation of final year courses.

Vista's goal is to produce well formed personalities, equipped to adjust to the demands of a competitive and changing world. This is achieved by a tuition strategy, termed guided selfstudy, in which the student is led step by step towards becoming a scholar, a balanced and confident personality capable of enquiry.

Vista is strongly orientated towards the teaching profession, an area in dire need of suitably qualified manpower.

Vista follows a strategy of starting with the bare essentials in terms of courses and programmes and then to expand step by step. As an illustration Vista started with only eleven first year courses in 1983 leading to BA and BA.Ed degrees. Two more courses will be added in 1984 which will then allow for BCom and BComEd degrees, while with two more courses as from 1985 a start can also be made with study in Law.

Vista is a university for the community in every sense of the word. It operates within the community. It seeks co-operation from and the involvement of the community. It takes note of the needs of the community and provides help and guidance where possible. It has, as a goal, not only to become an educational centre of excellence but also a cultural centre worthy of note.

Vista plans to expand its network of campuses ultimately to include all the major urban areas, and this could mean a network of ten campuses within ten years.
Prof Crouse concluded by saying that, even at this early stage there are signs of success in meeting these challenges. The crucial question, which time alone will answer, is how Vista will be assessed in 1993. Certainly, fundamental to all who are involved in this unique undertaking is the belief that history will show Vista to be a bold step in the right direction, not only with regard to tertiary education, but also in terms of the aspirations of urban Blacks.
EERSTE AANSTELLINGSBRIEF
Ministerie van Onderwys en Opleiding
Privaatsak X212
PRETORIA
0001
11 Desember 1981
Prof W A Landman
Krugerlaan 88
LYTTELTON
0140
Geagte prof Landman
Dit is met genoŽ dat ek kennis geneem het van u benoeming deur u Universiteit, op die Raad van die Universiteit Vista. Die ampstermyn van die Raad strek van 1 Januarie 1982 tot 31 Desember 1985.
Graag wens ek u van harte geluk met die benoeming. Ek is oortuig daarvan dat u 'n waardevolle bydrae in die Raad sal lewer.
Met vriendelike groete
DR F HARTZENBERG LV
MINISTER VAN ONDERWYS EN OPLEIDING
1984 : VOORLESING SOWETO-KAMPUS
Soweto-Kampus
Universiteit VISTA
3 Augustus 1984
Geagte prof Landman
Net 'n paar woorde van waardering vir u bereidwilligheid om ons studente toe te spreek.
Uit terugvoering van die studente blyk dit dat hulle u besoek geniet het en dat die betrokke werk nou vir hulle meer sin maak.
Wees asseblief verseker van hulle groot waardering vir die moeite en tyd wat u opgeoffer het om hierdie lesing wel moontlik te maak.
Aangeheg vind asb betaling ten opsigte van u reiskoste. Met die oormaat verhogings wat deesdae aan die orde van die dag is, is dit maar 'n druppel in die emmer, maar ek hoop dit dek darem u petrol!
Ek vertrou dat ons in die toekoms nog steeds op u kan staatmaak vir verdere voorlesings.
Vriendelike groete
J P VAN NIEKERK
1985 : DANKBRIEF, BYDRAE
Universiteit VISTA
22 Maart 1985
Prof W A Landman
Krugerlaan 88
LYTTELTON
0140
Geagte prof Landman
Ons bou stelselmatig aan Vista en ook aan sy beeld. Baie dankie vir u bydrae.
PROF C F CROUSE
REKTOR
Aantekening:
Ek was vir 'n aantal jare lid van die Dagbestuur en het 'n aantal kere opgetree as Voorsitter by Raadsvergaderings. (WAL)
1987 : OPTREDE AS WAARNEMENDE KANSELIER
Universiteit VISTA
28 Oktober 1987
Prof W A Landman
Krugerlaan 88
LYTTELTON
0140
Geagte prof Landman
U OPTREDE AS WAARNEMENDE KANSELIER
Ons spreek graag ons waardering uit dat u goedgunstiglik ingestem het om bogenoemde amp te vervul op Woensdagoggend, 9 Desember 1987 om 10h00 tydens die diplomaplegtigheid van die Verdere Opleidingskampus. Dit vind ook plaas by die Hatfield Christelike Kerk.
Ons sal u mettertyd van volledige besonderhede voorsien.
Dankie ook vir u voortdurende toegeneentheid jeens Universiteit Vista.
Vriendelike groete
ANP LUBBE
REGISTRATEUR (ADMINISTRASIE)
OORHANDIGING VAN PRESTASIETOEKENNING