Professor W A Landman

A compassionate participant
Willem Landman and Rachel Nel Burger were married in 1947 and three sons, namely Jacobus Cornelius, Petrus Hendrik en Willem Adolf and a daughter, Christina, were born from this union.
Willem and Rachel are described by their friends and acquaintances as a humble couple with a sincere faith in God. They care for and to this day make a difference to young and old in their community.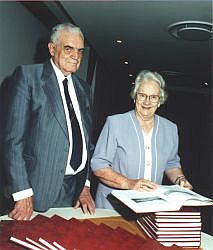 Prof Landman was a member of the church council of the Lyttelton-East Dutch Reformed congregation for many years. He served as head elder for more than ten years. His special contributions included acting as delegate of the consistory to the Presbytery and the Synod and the General Synod. During this period he researched and chronicled the congregation's history.
Manus Bothma thus concluded his tribute to Prof Landman at his 80th birthday celebration: "Maybe we, who are on the road to Eternity, when we see Oom Willie pass by, should stop and whisper to each other, with great thankfulness to Our Father: 'Be still, my fellow traveller, a MAN is passing by.'"